"Good Gods!" the ax-wielder booms. "She has bigger balls than I do."
Humor flashes in the warlord's silver-hued eyes. "Balls don't necessarily come with brains."
"Mine do." If my smile were any more syrupy, my teeth would rot.
I'm currently on book two of the Kingmaker trilogy by Amanda Bouchet. The first book was called 'A Promise of Fire', and the second one is 'Breath of Fire' The third one will be 'Heart on Fire', and I'll definitely be reading it. Probably this week.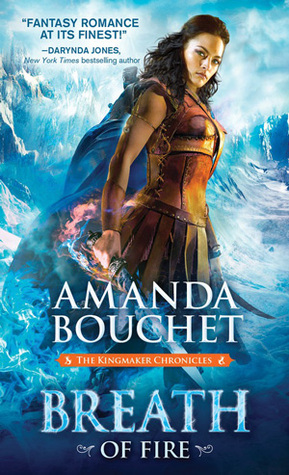 The books are set in a land called Thalyria. It seems to be based largely on Ancient Greece, with Greek language, Greek Gods (who are real in this world), etc. Half the world is ice and half is desert, or so it seems. Magic is stronger in the regions with ice, and weaker in the regions without. Magic is might in this world…
Our two primary characters are Cat and Griffin. Cat is hiding from her evil family, and has made a home with the circus. She is kidnapped by Griffin, who is a warlord who has recently taken control of one of the three Kingdoms in Thalyria. He wants Cat because she has the magic his family lacks.
Cat takes a long time to warm up to Griffin and his team, but I felt that was understandable considering that he literally kidnapped her, put her in danger and made her leave the only people she loved. Yup, fair enough. They are good guys though, and she can't help but warm to them. Sometimes she resents liking them, which feels like it fits the situation pretty well! I've read other reviews that say Cat is a bit whiny, but frankly, I would be too if I was treated the way she was!
I figured out who Cat was about 40% through the first book. We officially find out at the start of book two. I know there are more reveals ahead, it's that kind of story, but Cat's identity was most obvious.
I'm currently 70% through the second book and I've never felt like the story has dragged. It's an epic adventure and story, and so it feels okay that it takes three books to tell it.
There is an enormous amount of world building that has gone on behind the scenes, and the creatures (some are mythical creatures I've heard of, some aren't), the Gods, the secondary human characters, etc., are all well described and feel like integral parts of the story. You get enough scenery to picture the scene, but not so much that you feel the need to skip pages of description.
There is plenty of action, and if you're squeamish, it might squick you out a bit. Even the healing scenes can be pretty gory or squicky in their own right.
The general plot of the story is obvious, but the story doesn't feel predictable. So many things happen that I don't expect, and things don't go how I thought they were going to, and it all adds up to keep me interested and keep me turning the page.
The romance between Cat and Griffin is secondary to what is an epic fantasy adventure story. But it's there.
The secondary characters are fantastic additions to the story, and Kato is a clear favourite. I'm not sure if that's because he's Cat's favourite or mine. 

All in all, it's been a fascinating read, and I'm looking forward to reading the rest of the story. I rated book one five stars, and I expect to rate book two the same. I recommend it to anyone who enjoys fantasy or epic adventure stories.