This tag always weirds me out when I see it pop up, because it seems like something you should do in late December, reviewing your year of books. Instead, it's more like an 'Oh shit, the end of the year is coming up, have I read everything I wanted to read this year' tag. Which is weird again, because are people really that anal about reading books in a particular year? It shouldn't be that much work. Read what you want to read, when you want to read it.
Anyway, despite all that, I'm doing this tag. Why? Mostly because I just read the perfect book to answer the second question with. Ha ha!
Are there any books you started this year that you need to finish?
Need is too strong a word, but yes, there are books that I've started this year and left unfinished.
There is a LOT of sex in this book.  And angst.  Sex and angst.  I needed a break, and haven't felt the urge to go back to it yet.  I think it'll end up being a three star read, so it's not awful, just not enthralling, you know?  58% complete.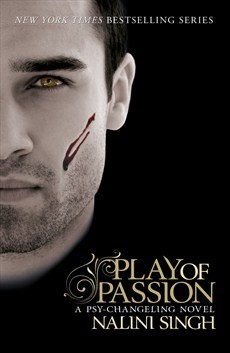 While I think the Psy Changeling series is brilliant, and Nalini Singh is a fantastic author (and a Kiwi!  I've met her and have an autographed copy of the first book in this series), these two characters aren't grabbing me as much as others in the series have.  I do, however, really want to finish this book, because I want to read others in the series.  This series has a strong story arc, so while each novel tells the romance of one particular couple, they really need to be read in order.  So yep, gotta finish this one.  21% complete.
I couldn't remember what this one was about (other than being an obvious office romance), and the blurb doesn't give anything more away, so I opened it up and read a few pages… still nothing.  Ha ha, oops.  Clearly not memorable.  46% complete.
This was good, but then I felt like they'd resolved the tension, and at that point I kind of gave up on it.  I know from the blurb that there's more drama and action to come, but it's frustrating when you get that to point in the book where you could happily say 'The End' and yet you're only… 53% complete.  *facepalm*
This book is old-fashioned and set in historical America.  I'm not wowed.  I'm leaning towards two stars at the moment.  39% complete.
I enjoyed the beginning of this book, but like Served, I felt like it got to a point and then just…kept going.  Hopefully there's some more action ahead to gather back some momentum, but right now it feels like I've read the good bits and I'm just waiting for the end.  45% complete.
I enjoyed this one, but just felt like a change in pace.  I'll go back and finish this one, it's good, but sweet, and I was looking for something a little meatier.  Not that I found it, but that's why I put it down.  71% complete.
Do you have a spring book to transition into the end of the year?
This question originally asked for an 'autumnal book', but in the Southern Hemisphere, we're in spring, not autumn.  And see, this is why I had to do this tag:
Just finished this one.  I liked the plot, I liked the female lead, but the writing style meant it was never going to be a five star read.  Too much telling instead of showing.  I think the author had some great ideas, but the story didn't deliver the wow factor that it could have.  And there was some heavy handed foreshadowing too, which made the book entirely predictable.  But still an okay read.  I'm giving it three stars.
Is there a new release you're still waiting for?
Not really, I'm terrible at knowing what books are coming out.  I went and checked out Maya Banks' page, and saw she has some coming out next year that I'll get.
Although the last one in the Slow Burn series sucked ass, I'll still get the next one.  The first three in the series were fantastic, so I'll give her a second chance to redeem the series.
I wish Maya would write the next one in the Montgomerys and Armstrongs series.  I've re-read them multiple times, and there was supposed to be a third book but she hasn't written it yet.
What are three books you want to read before the end of the year?
Ooh, tough call.  Um…  I was thinking about reading the next three in the series after Highland Spring.  Mostly because the plot of the last one in the series intrigues me.  They're called Summer's Reign, Autumn's Touch and Winter's Flame.
Is there a book you think could still shock you and become your favourite book of the year?
This one kind of depends on you knowing what you're going to read, doesn't it?  Which I don't.  Well, um…  I guess any of the unfinished ones above could.  Mum's just bought the Shattered Sisters series by Maggie Shayne, so I'll probably give that a go.  They could be good.  I've got a couple of samples to try out, so maybe Sensing Danger by Wendy Vella or Mr Rich by Virna DePaul…  I guess you're always hoping the next book is going to be amazing.  I mean, you'd much rather read a five star book than a three star (or worse) book, right?
Have you already started making reading plans for 2018?
Nope.   I get daily emails with book recommendations, and when I'm stuck for books, I go through the emails and download a bunch of samples, then I just work my way through the samples, buying the books that catch my interest and deleting the samples that didn't appeal. That's pretty much my modus operandi.  There's not really even a TBR list or pile.  It's just whatever I feel like, when I feel like it.